27 September, 2021
National pride day
By the Order of the President of the Republic of Azerbaijan, Mr. Ilham Aliyev, September 27, the beginning of the 44-day Patriotic War, is celebrated in the Republic of Azerbaijan as the Day of Remembrance. On this historic day, the Supreme Commander-in-Chief of the Azerbaijani Armed Forces, Mr. Ilham Aliyev, ordered a counterattack along the frontline in order to prevent the attack of Armenia, which has been pursuing a policy of aggression against Azerbaijan for many years, and restore our territorial integrity.
It is a known fact that as a result of the Karabakh events that began in 1988, our historical lands were occupied, tens of thousands of innocent people, including children and the elderly, were killed, and hundreds of thousands of our compatriots were expelled from their historical lands. Cities and villages were destroyed, our historical and cultural monuments were destroyed.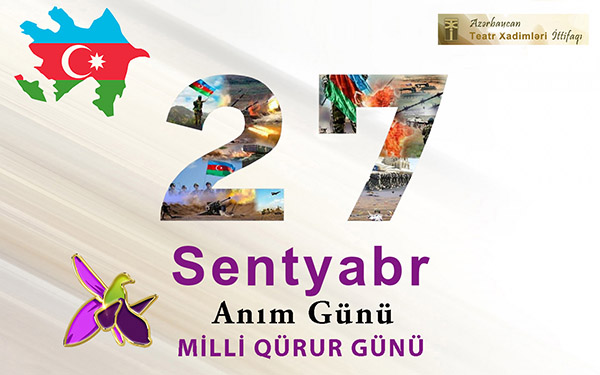 Although the Azerbaijani state has repeatedly tried to resolve the conflict through negotiations, the other side has grossly violated the rules of international law, and many years of negotiations to resolve the issue have failed. During this period, Azerbaijan has repeatedly demonstrated that it is not reconciled with the occupation of its historical lands. The battles in Lalatapa in April 2016, Tovuz in July 2020 and so on are a clear example of this.
The continuation of the ugly policy of the occupying Armenia, the constant firing on the civilian population, the provocations in our territories have filled the cup of patience of the state and the people. On September 27, 2020, in order to repel the next provocation of the enemy and put an end to the aggression, our Supreme Commander-in-Chief, Mr. Ilham Aliyev, ordered a counterattack along the front. Under his wise leadership, in response to the military aggression of Armenia against Azerbaijan, our soldiers and officers who fought heroically for the freedom of our lands, civilians working in the rear, demonstrated solidarity, perseverance and will and dealt crushing blows to the enemy. Thus, after 44 days, the victorious Azerbaijani Army restored the territorial integrity of our country, historical justice, international law, and WON in the war against mendacity.
The mighty state and people of Azerbaijan will always cherish the bright memory of our martyrs who fought heroically in the Patriotic War, our battle  of truth and honor, and waved the Azerbaijani flag on our ancient and eternal lands at the cost of their lives and blood. Rest in peace.
Union of Theater Workers of Azerbaijan
Baku city, September 27, 2021.